This past weekend I attended my first Malice Domestic convention in Bethesda, Maryland. I'd been to the Agatha Award banquet dinners in the past — cheering on my husband Art Taylor as a nominee (and four-time winner!) of the Agatha, but this was my first time attending the full conference.
I've heard often from regular attendees that Malice is a family, but I never truly understood what they meant by that until this weekend. So many wonderful people have been so kind to me in small and big ways, and that generosity is so amazing. Like all families, there are, of course, some moments of disagreements or bickering, but overall, Malice has always felt very warm and welcoming, and as a debut writer, I've never appreciated that more.
Art and I brought our son Dash with us, and while he wasn't the only child there, he was certainly in the minority, and yet everyone eagerly accepted him into the fold. We had a babysitter (THANK YOU, AVERY!) watching over him, but at times it felt as though we had hundreds of people watching over him. And us, too! During one panel, Art got a text message from someone saying, "I have your name badge!" Turns out Art had lost the name tag in his badge without even realizing it, but he had it back, safe and sound, before the panel was even over.
That's family.
This year was also my first Agatha nomination — for Best Short Story — so both that was both exciting and a bit nerve-wracking, I'll admit. And yet, once I got into the swing of things and started to feel that warmth, I realized that no matter what, everything was going to be just fine.
The weekend was a whirlwind, as all good conferences are, but here are some highlights:
My first Malice panel on short stories, with fellow nominees Leslie Budewitz, Susanna Calkins, Barb Goffman and my husband Art Taylor, moderated by the wonderful Michael Bracken. I got to talk a bit about Dash entering his first writing contest (which embarrassed and excited him, apparently).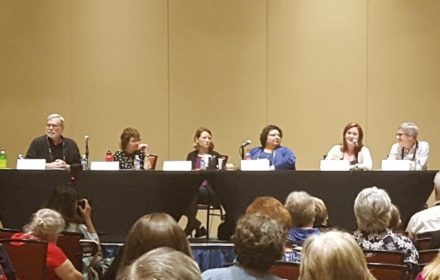 Lunch with my Alfred Hitchcock's Mystery Magazine editor Linda Landrigan. It was so great to catch up with her. Later in the weekend, I also got to record an audio reading of my very first AHMM publication, "The Monitor," which I'll link to here when it goes live!
Talking with new friends and old. I'm sure I'll forget someone, so I don't want to even attempt to name names, but I love love love you all!
Author signing on Saturday morning, where I got to sign the very first copies of the advance readers of One Night Gone!!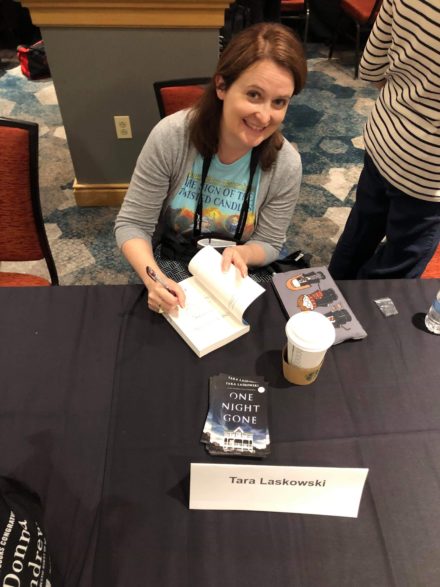 The Agatha banquet! Although I spent the majority of it super nervous, it was truly an honor and a delight to find out I was tied with Leslie Budewitz as a winner of the Agatha for Best Short Story! What an amazing experience! I have my own teapot now! Also, massive congratulations to all the winners this year: Ellen Byron, Sujata Massey, Dianne Freeman, Shari Randall, Cindy Callaghan, and Jane Cleland!
I gave a speech! (Though I don't remember what I said.)

After the banquet with teapot and the lovely Linda Landrigan!
Now it's back to (boring) reality again. But, can't wait for next year!